Wallonia, European Recycle Valley by 2030?
Thanks to the Walloon Government's recovery plan and the Region's innovation strategy, recycling industry players are now looking to turn Wallonia into a Recycle Valley in the heart of Europe by 2030.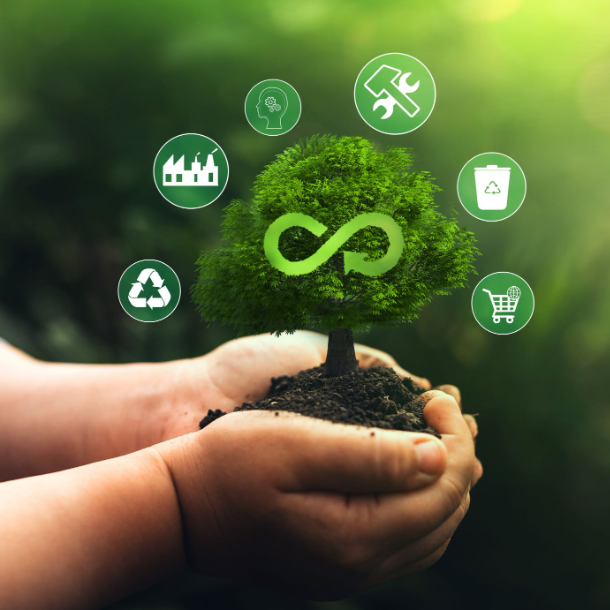 Climate challenges have turned recycling into a driving force for innovation, as Wallonia is anticipating with its Recovery Plan, in particular by reifying the circular economy help boost the economy whilst accelerating our Region's transition towards more sustainable, resilient, and inclusive growth.
The WIN4C project (Walloon Initiative for Circular Materials)
The goal of this project, which falls under Wallonia's smart specialisation strategy, is to attract streams of waste from across Europe to Wallonia and then convert them into new materials in order to be seen as the "Recycling Valley" in the heart of Europe by 2030, in terms of both innovation as well as from the point of view of a real circular economy for technological materials (such as minerals, metals, and polymers).
An action plan is taking form with the creation of a genuine ecosystem, uniting 46 manufacturers, 9 research centres, and 4 universities to work on 136 already-identified projects seeking to make Wallonia a benchmark for recycling. This brings true added value to the region, gambling on Wallonia's reindustrialisation to potentially create no less than a thousand jobs, all projects combined.
The Metallurgical Research Centre (CRM)
CRM, located in the Liège basin that was once the glory of the Walloon steel industry, alongside a participating research centre, is now at the cutting edge of research into new metallurgical processes to help de-carbonise European steel.
Their work includes designing pilot lines for their clients, which include all the big names in the sector. But CRM has also opened its doors to other sectors with companies such as Carmeuse, AGC and Sabca. The goal of these pilot lines is to allow companies to de-risk the process before putting it into production.
 "Recycling is one way to de-carbonise. We currently have the capacity to mobilise an entire ecosystem of manufacturers and researchers. The strategy that Wallonia is drawing up will force all players into a dialogue for jointly developing a roadmap for material circularity, and in so doing, will position Wallonia as a recycling valley in the heart of Europe," says Joeri Neutjens, Director of CRM
 The action plan's first result was the creation of a new plant.
In CRM's workshops, engineers are making the final adjustments to a miniature furnace for recycling aluminium. Every year, residents of Wallonia produce two kilos of unrecycled aluminium waste. The goal of this miniature furnace is to transform aluminium waste into ingots which will be fed back into the cycle as raw material.
After several positive results, the pilot project will soon lead to the creation of an industrial aluminium recycling line in Wallonia.
The players involved in Wallonia are still anonymous at this stage, but the project represents an investment of 20 million euros. This new factory is set to create 30 direct and 60 indirect jobs.  It will also process no less than 20,000 tons of aluminium each year, representing a turnover of 30 million euros.
The Comet Group
Wallonia is already home to several active companies in the recycling sector, including the Comet Group, which works in the sector of ferrous and non-ferrous metals and their derivatives.
In just a few decades, this Belgian group, which has a presence not only in Europe but also in Asia and South America, has developed new technologies as well as its industrial capacity, making it a leading player in recycling these materials in Europe. Their goal is to transform yesterday's waste into tomorrow's secondary raw material.
 "Wallonia is ahead of the game in terms of recycling. What they're doing here isn't being done in any other region in Europe. We have to stay ahead of the game," Pierre-François Bareel, CEO of Comet Group.
With the explosion of electric mobility, battery recycling presents a new challenge because it allows us to collect lithium, germanium and other rare earth metals. The Comet company is involved in this sector, and is aiming to become an electric mobility recycling leader. It already recycles Lime scooters, which are found across Europe.
"All of their scooters are recycled here, from Amsterdam to Marseille. We want to cover the entire electric mobility recycling value chain, from scooters to cars, trucks, and electric barges. In particular, we're working on a demonstrator to store energy from recycled batteries." Pierre-François Bareel, CEO of Comet Group.
Why is Wallonia the perfect place to develop this ecosystem?
In the heart of Europe, Wallonia has the perfect strategic location for capturing waste stream. Our location is an attractive factor because we're close to major European metropolises, which are large producers of waste products that can be recycled.
Wallonia also has spaces for hosting projects and university structures, as well as renowned research centres for R&D support. It's also worth noting that Wallonia has skills centres which are ready to train the region's large labour stock.
International players in the recycling sector have already chosen Wallonia
Lavergne 
This Canadian group has set up in Chatelêt. It designs, develops, and manufactures sustainable value-added resins (alloys and composites) from 100% post-consumer recycled plastic (PCR).
More Home - Lavergne
Filao 
The French group Sources Alma, a leading player for its volume of bottled water on the market, alongside SUEZ, a waste treatment agency, have built a PET plastic recycling plant in Couillet, near Charleroi. There, PET bottles can be recycled and transformed into new secondary raw material for manufacturing new bottles.
More: FILAO, the first ever integrated PET recycling plant in Belgium, will be based in Charleroi (investinwallonia.be)
Morssinkhof 
In 2023, the Dutch group Morssinkhof - Rymoplast will construct a new plant in Neufchâteau, specialising in recycling coloured plastic bottles and PET containers.  
More: Dutch company MORSSINKHOF chooses to set up its new MOPET recycling centre for PET plastics in Neufchâteau (investinwallonia.be)
Sogapol 
Sogapol, the Walloon subsidiary of the Sociedad Gallega de Polímeros S.A. (Valtalia Group) is located in Tenneville, in the province of Luxembourg. Valtalia, from northern Spain, is an active player in industrial waste management and recovery, specialising in recovering industrial plastic for producing low and high density polyethylene (PE).
Sogapol - Sociedad Gallega de Polímeros
Envirolead 
Envirowales, based in Wales, recycles up to 96% of the 60,000 tonnes of lead/acid batteries it processes each year, in the most efficient and environmentally friendly way possible. They outgrew their Welsh site and recently decided to construct Envirolead, a new 20,000 m2 plant that will be capable of processing up to 120,000 tons of batteries each year, in the Ghlin-Baudour area. This new project represents an investment of about 30 million euros, creating 140 direct jobs and just as many indirect jobs as a result.