Léonidas is moving its global production to Wallonia
The Belgian chocolatier, which was founded in 1913, operates in 40 countries and is famous around the world for its pralines. It will make the move from Brussels to Wallonia.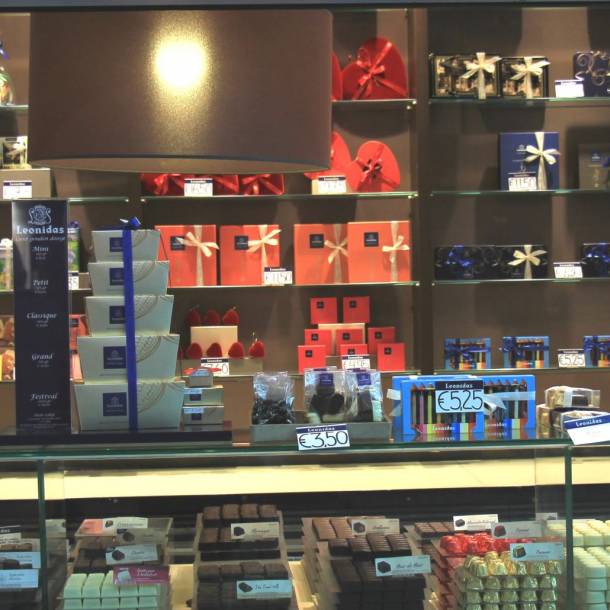 The agri-food sector in Wallonia
Wallonia is delighted that Léonidas is joining the many companies in this sector that have already settled in our region.
Agri-food is one of the flagship sectors in our regional economic policy: it represents €8.9 billion in turnover, including €4.9 billion in exports, and €482 million of investments. The food industry is also the largest industrial employer in our region, accounting for 24,373 direct jobs.
A five-hectare site in the Nivelles-Nord zone
Wallonia offers a particularly wide range of sites, semi-industrial buildings and/or offices. Real Estate (investinwallonia.be)
The company was able to find a five-hectare site in Wallonia, which it acquired a few years ago, in order to consolidate all of its activities. Production, offices and logistics will be set up in modern buildings on this new site, which will satisfy sustainability standards that align with the company's goals.
Before choosing Nivelles, the chocolatier had searched for a site in Brussels to bring together all of its activities, but it was not possible to find enough space that met the desired criteria, in spite of proposals from the capital region. As a result, Wallonia will benefit from the investment of tens of millions of euro, since it is home to many available industrial sites.
Real-estate prices were also a decisive factor, with the prices in Brussels unable to compete with the costs in Wallonia.
More sustainable facilities
Wallonia is conscious of environmental matters, which is why it strives to foster a more sustainable economy within the region.
Aid is also offered to companies that satisfy several criteria and that are planning to invest in equipment intended to protect the environment or encourage sustainable energy use. Environmental technologies (investinwallonia.be)
Léonidas will build a new, modern building on the Nivelles-Nord site and move its machines and production lines there.
Philippe de Selliers, the CEO of Leonidas, notes that the factory in Anderlecht is forty years old and located in the city centre, which means that the company is no longer in line with current requirements with respect to the environment and pollution.
Working on two separate sites was also not ideal in terms of the environment. Bringing everything together in Nivelles is an opportunity for the chocolatier to modernise and to work on sustainability, as it is already doing with its products and packaging. This also allows it to offer a better working environment for its employees.
In its press release, Léonidas states that, 'The new factory will aim to receive an Excellent rating in the BREEAM certification. This entire project is part of an environmental approach that takes many things into consideration: the health and well-being of workers, energy and water management, transport, mobility, materials used and waste management.' Furthermore, the research and development hub 'will be bolstered with nearly 1,000 m² dedicated to various laboratories and pilot lines. These efficient facilities will make it possible to carry out ambitious collaborations with universities and other research institutions in the agri-food sector.'
Léonidas hopes to obtain all the necessary permits to break ground on its new site early next year, with an eye to launching production of its pralines by summer 2024. The permit application has already been submitted to the city of Nivelles.
Job creation: an essential element for Wallonia
Employment is one of the key issues in our regional policy. A number of stakeholders in the economy, employment and training work together to meet the needs of key sectors.
The region ensures that the needs of companies in the region, or companies moving to the region, are met and that they have access to an adequate workforce through traditional supply chains and training and skills centres.
Wallonia's human resources represent a veritable goldmine for companies setting up in the region. When it comes to staff engagement, a series of measures allow companies to reduce staffing costs and find training that is specially adapted to what they do. Qualified and productive human resources (investinwallonia.be)
In the case of Léonidas, the company cannot provide an exact number of workers who will be hired at the Walloon site at this stage.
However, as praline production is a seasonal activity, the 150 workers who are normally employed by Léonidas receive support from one hundred additional workers during busy periods. The company also includes eighty executives and employees.
The goal is to transfer all of the workers from Anderlecht to the new site. 'Because we are a family business and our teams also have real expertise, thanks to people who have worked with us for a very long time,' explains Philippe de Selliers.
Are you active in the agri-food sector? Do you want to set up in Wallonia? The region has established a number of organisations to provide you with services and advice, to support your projects and to help you find partners.
More