Liège Trilogiport welcomes its first Chinese train!
The railway link of the Liège Trilogiport's multi-modal platform is fully operational, connecting the site to the global railway network!  As a result, Liège Trilogiport was able to welcome the first train from China on 8 December.  The Port of Liège is therefore reinforcing its economic links with other countries, while continuing to promote intermodality.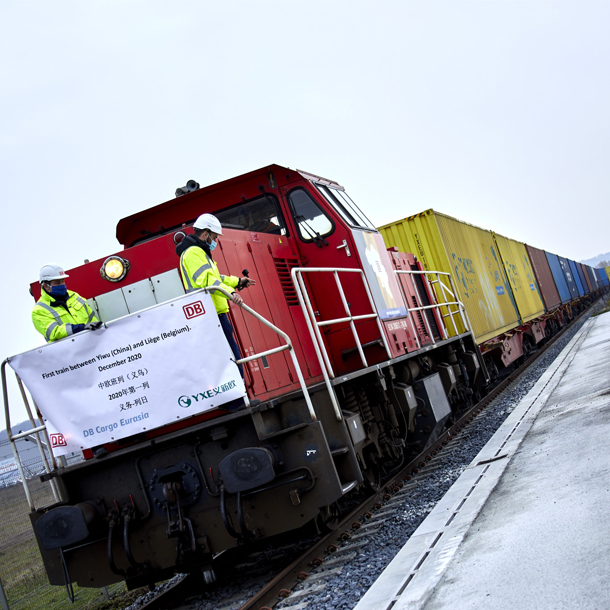 After leaving Yiwu, an important Chinese e-commerce hub, on 18 November 2020, the train travelled more than 12,000 kilometres across seven countries before unloading its cargo at the Liège Trilogiport.  This is the first special China–Liège Trilogiport freight train loaded with various cargo for a variety of European countries.
Upon the arrival of this first train at the Liège Trilogiport, Philippe Henry, Vice-President of the Walloon government and Minister for Climate, Energy, and Mobility commented: "Today, we are taking a significant step forward, as the long-awaited third form of mobility becomes operational. Now, we want to optimise this potential. How? By using each mode of transport where it is most efficient – from both an economic and environmental point of view. This is the core of this kind of exceptional infrastructure."
In its desire to increase rail traffic between China and Liège Trilogiport, DPW Liege Container Terminals, is currently negotiating to create new traffic by the end of 2020. The goal is also to fill the trains in both directions – both for imports and exports – in order to ensure the profitability of this traffic.
EMILE-LOUIS BERTRAND, GENERAL MANAGER OF THE AUTONOMOUS PORT OF LIÈGE
This high-performance railway connection was an absolute necessity for this platform, which is intended to be multi-modal. This new railway link will make it possible to attract new clients and investors, to increase the attractiveness of the platform, and to improve the commercial potential of the site.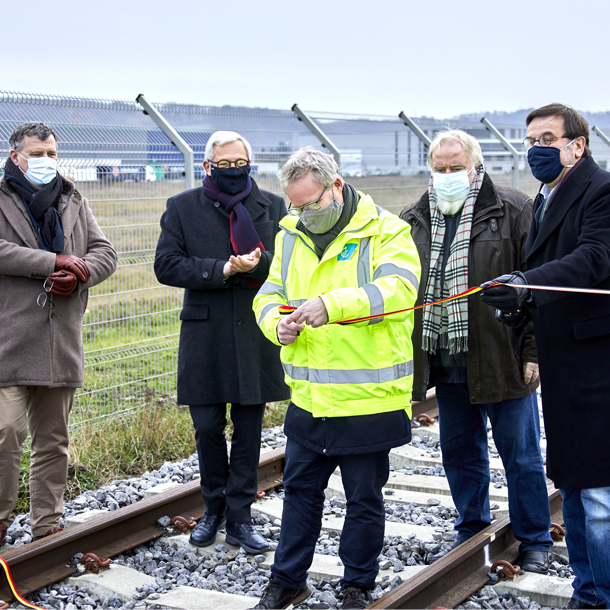 Thanks to this traffic, the Port of Liège is strengthening its economic links with China and continuing to promote intermodality.
The rail complements the waterway and limits the environmental impact of cargo transport.
 Willy Demeyer, President of the Autonomous Port of Liège and Mayor of the City of Liège is delighted: "Thanks to this intermodality, or "modal shift" (shift from transporting cargo by road to rail and/or navigation), promoted by European and Walloon authorities, we will be able to reduce the number of trucks on our roads. The development of the Port of Liège, and its water and rail connections, dedicated to companies that use these modes of transport makes it possible to respond to concerns from Europe and citizens and reduce CO2 emissions from transport."
Since its launch and the reorganisation of the Liège Trilogiport land at the Autonomous Port of Liège in 2016, more than 122,600 m2 of logistical warehouses have already been developed by the concession holders for the multi-modal platform.
 As of now, the platform boasts a container terminal with a surface of 4.5 hectares and two logistical warehouses measuring 23,000 m2 and 44,000 m2. Two on-going developments will be added to these structures: the finalisation of a multi-modal site measuring 88,000 m2 by the Weerts Supply Chain (WSC) and the construction of a logistics hall measuring approximately 30,000 m2 by the Jost Group in 2021 and other halls in the future (100,000 m2). These developments offer interesting prospects for the development of the nearby container terminal.
According to Willy Demeyer, the President of the Autonomous Port of Liège, "Within four years, more than 122,600 m2 of space has been commercialised on the multi-modal platform, which is significant progress for Belgium. These various investments and developments affirm Liège's status as a Walloon economic hub. In addition, the Liège Trilogiport multi-modal platform is energising the region and enabling the development of logistical activities in the immediate vicinity, which, in turn, creates new jobs."
The Autonomous Port of Liège is recognised as a major logistics hub and is an essential logistics platform in Belgium and Europe. It is also becoming an essential hub for transporting cargo in Belgium and neighbouring countries.
More informations ?

Contact us!
Franck
TOUSSAINT
Supply & Value Chains Manager
T +32 (0)81 33 28 62