Inauguration of a new production line at Takeda Belgium
The pharmaceutical company Takeda Belgium, the flagship of the Japanese giant Takeda, is inaugurating a new production unit in Lessines.
This 118 million euro investment in the Walloon subsidiary will create 100 new jobs on the site.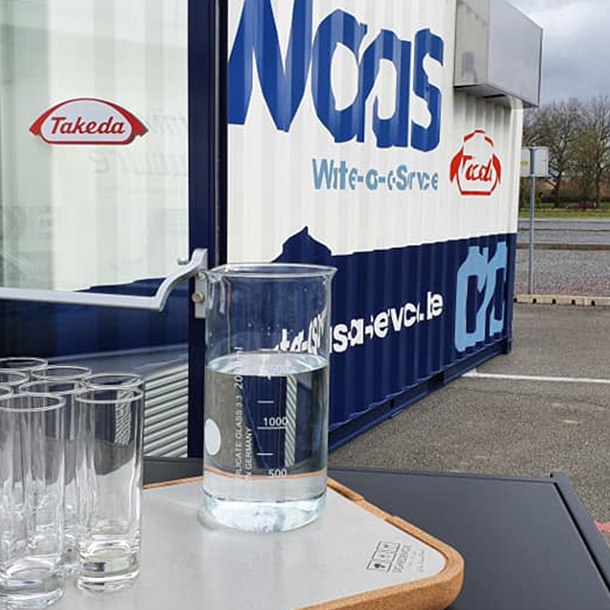 The plant's history takes us back to it initially belonging to the American group Baxter for which it was the Hainault site as part of its biotechnological activities.
With the split with Baxter in 2015 to become Baxalta, it was acquired by the British laboratory Shire in 2016, whose activities were taken over by Takeda in 2019, when Takeda Belgium emerged.
With over 1,200 people employed, the Walloon subsidiary is Takeda's 3rd largest production site in the world today, after Japan and the United States. The new production line that has just received approval from the American health regulator (FDA) confirms Takeda's great interest in the Walloon site.
Takeda Belgium's main activities consist in plasma-based development for patients suffering from rare diseases and complex chronic illnesses. The new unit, which is already operational, is dedicated to the purification of a specific protein mainly affecting the lungs and liver in the event of deficit. The therapy manufactured on the Lessines site will offer an important treatment option for life against the genetic and hereditary illness caused by this deficit. The line ensures optimal traceability thanks to its digitalised control system and was accompanied by investments aiming to reduce Takeda Belgium's environmental footprint with 8,000 photovoltaic panels. The Walloon site will also become the Japanese giant's first site to reuse 90% of its wastewater by 2023.
This new investment in the biotech/pharma sector also reaffirms the position of Essencia, the Belgian federation for biotechnology and life sciences companies, on the need to have qualified personnel for companies in the sector that want to set up in Wallonia and therefore the importance of the training centre project specialising in biotechs, EU Biotech School Health Hub, which should be opened in the Gosselies Biopark by 2025.
The Lessines site, which will be celebrating its 50th anniversary next year, positions Wallonia not only as a major player in the pharmaceutical and life sciences sector, but also highlights the importance, supported by our region, of the sustainable development of companies present in our country.